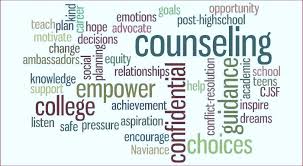 Welcome to the Irvine High School Counseling Department Website. Our mission is to provide academic, personal-social, and college and career planning support to all students. The Irvine High School Counseling Team works collaboratively with students, parents, administration, teachers and the community to prepare students for their post-high school goals. We look forward to working with our students and families this school year. 
---
schedule adjustment process
Please follow the link below for information regarding our Schedule Adjustment Process for Second Semester beginning January 23rd.
---
WHO IS MY COUNSELOR?
Each student is assigned to a TA class which they follow from grades 9-12. Each TA teacher is paired with a counselor. Click here to determine who your counselor is based on your TA teacher.
Click on Counseling Staff for each counselor's contact information.
---
COUNSELOR AVAILABILITY
The Counseling Department is located in the upstairs office inside the Student Center.
For immediate personal/social concerns throughout the day, please check in with office staff.
Hours:
Before School  ( Tuesday -  Friday, 7:30am - 7:55am)
During Break (Between Periods 1 & 2)
During Lunch (Tuesday & Thursday)
Between Periods 3 & 4
---
3 Reasons to See Your Counselor
Academic
Schedule changes and course adjustments, transcript review, graduation status, college planning; also includes study skills.
Personal/Social
Decision making, goal setting, problem solving and non-academic concerns or conflicts with others (friends, family, teachers); also includes Integrity, Honoring Self and Others and Social Responsibility.
Career
Interest in the world of work, personal interests and abilities; also includes paths to achieve future goals.
Nondiscrimination Statement
The Irvine Unified School District is committed to equal opportunity for all individuals in education. District programs and activities including membership in student clubs shall be free from discrimination based on race, color, ancestry, nationality, ethnic group identification, immigration status, age, religion, actual or potential parental, family, or marital status, or the exclusion of any person because of pregnancy or related conditions, physical or mental disability, sex, sexual orientation, gender, gender identity or expression, or genetic information; the perception of one or more of such characteristics; or association with a person or group with one or more of these actual or perceived characteristics.
The District does not discriminate in enrollment in or access to any of the activities and programs available. Admission to these programs is based on age appropriateness, class space, interest, aptitude, and prerequisite coursework where applicable. The lack of English skills shall not be a barrier to admission to or participation in the District's activities and programs. The Irvine Unified School District also does not discriminate in its hiring or employment practices.*
*The full Nondiscrimination statement can be found at iusd.org and Board Policy 5145.5