Come join us at Six Flags Magic Mountain – The thrill capital of the world!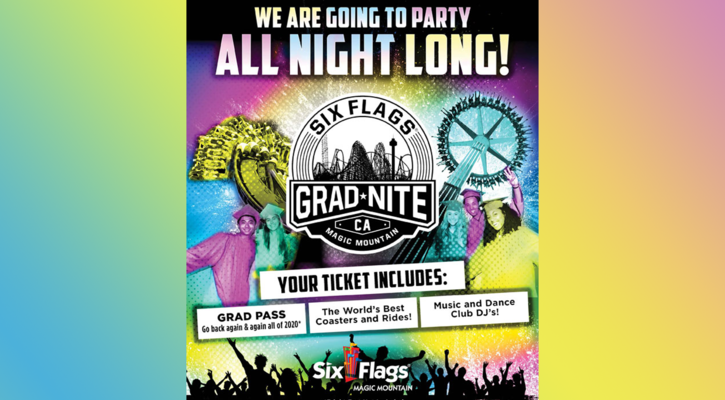 DUE To THE COVID-19 OUTBREAK, ALL SCHOOL-RELATED GATHERINGS HAVE BEEN CANCELED.
Hurry!  Tickets $150 now through March 13th.  Price increases to $175 March 14th, 2020.
Six Flags Grad Night includes
Admission to park from 9pm – 4am
2020 Six Flags Grad Pass to use the rest of the year!
The most coasters on the planet!
Live Djs and multiple dance areas!
All-you-can-eat buffet
Transportation to and from park
Why Grad Night – What is Grad Night?
Years ago, a local couple made the decision to host an all night graduation party for their son and his friends. Their son's party was both drug and alcohol free, keeping 200 teenagers out of harm's way (as well as the community at large). It was such a success, that each year since, "Safe and Sober Grad Night" has been part of Irvine's graduation celebration.
Graduation creates an emotionally charged day and an even more electrifying evening that holds the promise of many celebration parties. National statistics indicate that more teenage alcohol-related accidents and fatalities occur on high school graduation night than any other time of the year. For fatal crashes occurring from midnight to 3:00 am, nearly 80% involved alcohol. Safe and Sober Grad Night provides a supervised, safe environment for the graduating seniors to celebrate. At Safe and Sober Grad Night the graduates can have "the time of their lives" without risking their lives. By providing a Safe and Sober Grad Night, we can greatly reduce the risk of harm to the graduates, and the community at large – on a night when that risk is unusually high.
For purchasing information and resources, head to www.irvinehsgradnight.com/