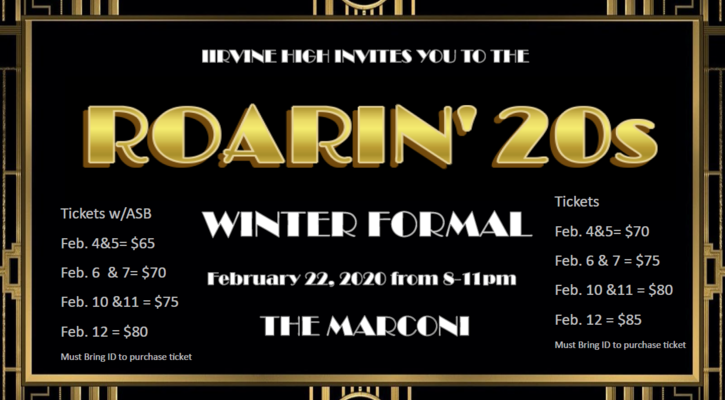 All Students of Irvine High School and their guests are invited to
The Roaring 20's Winter Formal. This unique event will take place on Saturday, Feb. 22 from 8:00 pm - 11:00 pm at the Marconi in Tustin. Tickets include: DJ and Live Band, finger foods, chocolate fountain, games, photo booth, and some extra surprises. We encourage all Grade Levels to attend.
All students and their guests are required to have the permission slip signed by both the student and parent/guardian. Find the permission slip
here.
Time: February 22, from 8pm to 11pm
Location: 1302 Industrial Dr., Tustin, CA 92780
Ticket Sales are as follows:
Feb 4 & 5 : $65 with ASB / $70 without ASB
Feb.6 : $70 with ASB / $75 without ASB
Feb.10 & 11: $75 with ASB / $80 without ASB
Feb.12 : $80 with ASB / $85 without ASB