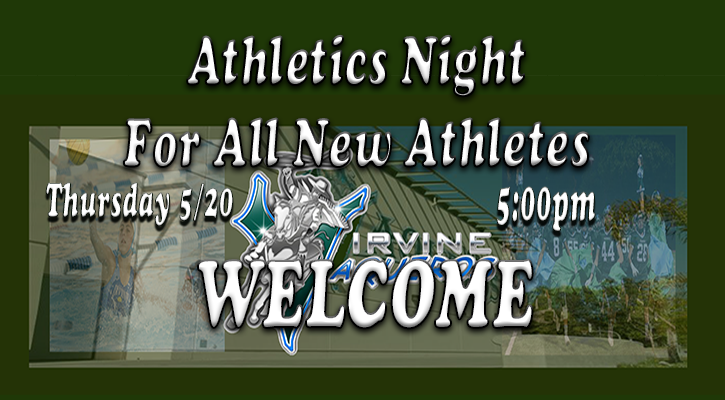 INCOMING FRESHMAN  ATHLETICS WELCOME
Thursday, May 20th, 2021
Agenda
5:00 pm       Orientation Video will be posted for parents to watch
5:35 pm        1st Round of Live Zoom Chats with Coaches
6:00 pm        2nd Round of Live Zoom Chats with Coaches
6:25 pm        3rd Round of Live Zoom Chats with Coaches
Welcome Video 
In order to maintain social distancing for our staff, the following video is a recorded Zoom meeting. We apologize for the low quality.  Please note the links underneath the video for further resources.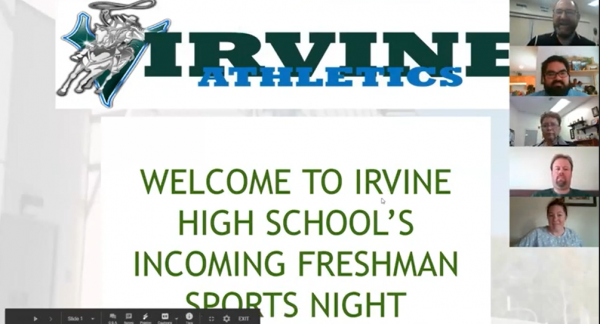 For a .pdf of The Irvine Way - Click Here
If you are unable to read the slides in the video, Click Here for a link to the slide deck.
Athletic Program Online Meetings
CLICK TO ACCESS LINKS TO THE SPORTS PROGRAM ZOOM MEETINGS
Choose up to 3 different Athletic program meeting. 
5:35pm   Meeting Session 1 
6:00pm   Meeting Session 2
6:25pm   Meeting Session 3 
Interested in learning about more the 3 sports?  Contact and more information will be available on the meeting links page.
One of our Athletic Directors will be available for questions and/or to help direct to what you are look for at the top of the Zoom Meeting page.
INCOMING 9TH GRADE Student Information:
Incoming 9th Grade FAQs - Click Here
Important Dates - 
Summer Roundup for Freshman is August 12. You will receive more information about Roundup and the Data Confirmation Packet in July.  Please check this website.
Link Crew/ New Student Orientation is August 13 from 8:00 am to noon.
The 2021-2022 school year begins August 19.